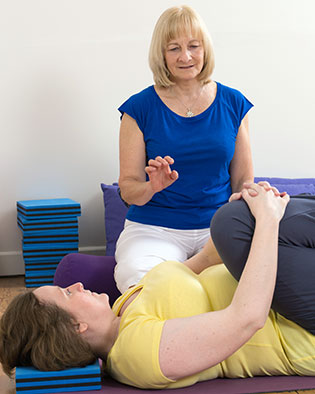 One to one
There are many reasons why people choose to work one to one with me. It may be as a preliminary session before joining a group class or there may be a specific problem that you would like to work with, either way I will be very happy to discuss your requirements without any obligation.
What makes yoga so effective, whether your aim is simply to relax after a hard day at work, or to improve a particular physical or emotional condition, is that it approaches health as a dynamic combination of body and mind, treating a person as a whole. It provides a very enjoyable and practical approach to achieving health and happiness.
I have a small yoga room at my home in Englefield Green or I can come to you if you have an appropriate space or I can provide a session via Zoom.  The cost is £65 for a session or £185 for a block of three classes ( a small additional charge will be made for travelling to you if it is more than 3 miles)
Terms and conditions for one to one classes can be found here and our Privacy notice here.
Please contact Patricia@theyogaroot.com or 07860 581108 to discuss your requirements or to book a class.