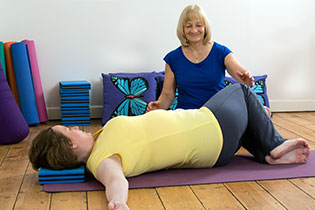 One to one
Depending on your requirements, one to ones can include any of the following; yoga, meditation, relaxation or a mix of each tailored to meet your own specific needs. Generally sessions are an hour, but this may vary depending on your requirements.
Working with you, I will create a safe space in which we can focus on your needs and preferences and work at a pace which is comfortable for you.
There may be many reasons for having a one to one session, whether that is just a preliminary to joining a group or because you have a specific problem that you would like to work through, or because you have restricted mobility or another health issue for which it would be more appropriate to work on one to one.
I will be very happy to discuss your requirements without any obligation.
I have a yoga room at my home in Englefield Green or I am happy to come to you if you are local. There is a traveling charge for any distance over two miles. The cost is £62 for an hour or £175 for a block of three classes.
Terms and conditions for one to one classes can be found here and our Privacy notice here.
Please contact Patricia@theyogaroot.com or 07860 581108 / 01784 479974 to discuss your requirements or to book a class.