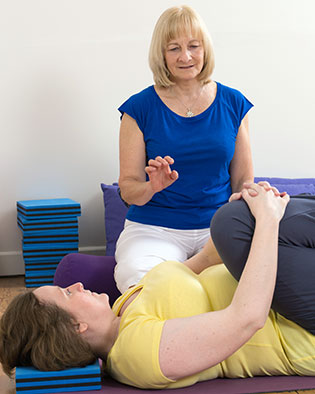 One to one
There are many reasons why people choose to work one to one with me. It may simply be as a preliminary session before joining a group class or there may be a specific problem that you would like to work with, either way I will be very happy to discuss your requirements without any obligation.
What makes yoga so effective, whether your aim is simply to relax after a hard day at work, or to improve a particular physical or emotional condition, is that it approaches health as a dynamic combination of body and mind, treating a person as a whole. It provides a very enjoyable and practical approach to achieving health and happiness.
Yoga can be used as a therapy to help ease the symptoms of a wide range of long term disorders such as; high blood pressure, diabetes, chronic fatigue, pain, and stress related issues such as anxiety and depression and eating disorders.
Working with you, I will create a safe space in which we can focus on your needs and preferences and I will work at a pace which is comfortable for you. A one to one session may include yoga postures, breathing practices, relaxation, meditation, and other aspects of traditional yoga tailored to your needs.
I have a small yoga room at my home in Englefield Green but classes there currently suspended due to Covid. I am happy to come to you if you have an appropriate space or to provide a session via Zoom.  The cost is £62 for an hour or £175 for a block of three classes.
PLEASE NOTE THAT ALL NECESSARY PRECAUTIONS WILL BE TAKEN DURING THE COVID OUTBREAK
Terms and conditions for one to one classes can be found here and our Privacy notice here.
Please contact Patricia@theyogaroot.com or 07860 581108 to discuss your requirements or to book a class.