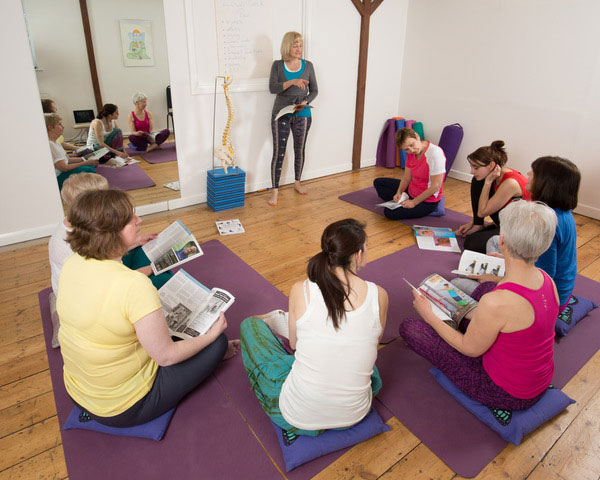 "Thank you for another amazing weekend. I am absolutely loving this course, it has transformed the way I teach and the way I feel, it is a remarkable journey. I am very much enjoying the case studies too, it is all so interesting and I feel that things are really coming together. Love it love it love it!"
Irene
"It's a brilliant course: the teaching is great and supportive. The content and learning have brought a richness to my yoga teaching and opened my eyes to how yoga can help people individually with their health issues."
Sarah
"In depth and life transforming for me. Absolutely essential if you want to further your yoga teachings and practice."
Aidilla
Real Yoga Post Graduate Course in Yoga Therapy
Next Course Starts in Egham March 2024
Real Yoga has been training yoga therapists since 2006 and this course will provide you with in depth knowledge and the opportunity to develop your skills so that you can make a successful career in yoga therapy, which is one of the fastest growing complimentary therapies in the UK.
The course is accredited by the British Council for Yoga Therapy (BCYT) and our graduates are eligible to register with both the Complementary & Health Care Council (CNHC) and the Yoga Therapy Association
Dates
The course starts in March and runs over 21 months. There will be 13 in person training weekends at our venue Synergy Physiotherapy in Egham and 14 half days live via zoom also at weekends.
Eligibility
Applicants must have the following qualifications and experience:
Have a yoga teaching qualification from training of a minimum of 200 hours and 180 contact hours; yoga training which spanned 2 years is preferred and highly recommended.
Have been teaching as a yoga teacher for a minimum of 120 hours over 2 years
Completed continuous professional development, once qualified as a yoga teacher, of at least 15 hours per year
Have been committed to their own regular personal yoga practice for a minimum of 3 years
Costs
Tuition fees are £ 4500 and assessment fees are £250 payable to the assessor at the date of assessments. A non-refundable deposit of £750 is required to secure a place. The balance may be paid by instalments with prior agreement.
Full Course Information
You will find all the information about the course on the REAL YOGA website and you can obtain a copy of the SYLLABUS and application form by contacting Patricia@realyoga.co.uk or on 07860 581108