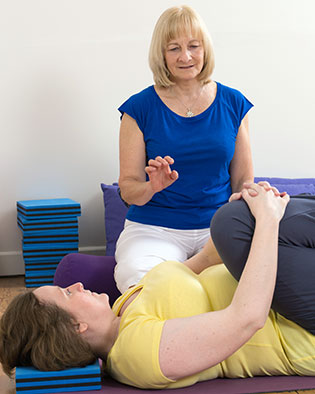 Yoga therapy
Your body has a story to tell – it's time to listen
Yoga Therapy is the use of yoga to help people with specific health needs. It may include yoga postures, breathing practices, relaxation, meditation, and other aspects of traditional yoga as required.
What I love about yoga therapy and what makes it so effective is that it approaches health as a dynamic combination of body and mind, treating the person as a whole.
For example many long term physical conditions are commonly associated with depression and a variety of feelings such as sadness, loss, frustration or anger and yoga therapy seeks to address these patterns of thinking as well as any physical symptoms.
In this way yoga teaches awareness of both body and the mind and provides a very practical approach to achieving health and happiness.
Yoga therapy can be used to help ease the symptoms of a wide range of disorders such as; high blood pressure, diabetes, chronic fatigue, back pain and stress related issues such as anxiety and depression and eating disorders.
Patricia is a fully qualified yoga therapist registered with the International Association of Yoga Therapists and the Complementary & Natural Healthcare Council and offers one to one classes, groups and workshops.
She also works for the NHS and in private psychiatric clinics and at her local osteopaths. Cost is £62 a session or £175 for three.
Please contact Patricia@theyogaroot.com or 07860 581108  to discuss your requirements or to book a class.