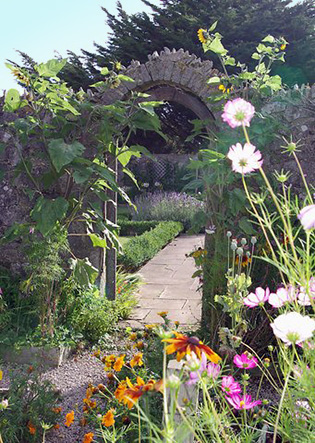 Summer Solstice Yoga and Vedic Astrology Retreat
Friday 19th June to Monday 22nd June 2015
Florence House, Seaford, East Sussex
What better time to take some time to yourself, to rest and re-align, than when the sun is at its highest, the days are long and nature is at its finest? The retreat includes two  yoga and meditation sessions each day and we will welcome the longest day with sunrise yoga and see it out with bonfire, storytelling and music.
Working with  the energy of the solstice our yoga will be deep and mindful and will mix classical hatha with vinyasa flow. The classes will be informed by the wisdom of Vedic astrology and themed to flow with the energies of earth, air, fire and water, and to help you shine a light on your soul's purpose.
The astrological input will come from Magggie Sapiets, karmic astrologer and holistic healer who studied Western astrology with the Huber School and more recently, in the last ten years studied Vedic astrology with her guru in India.
Maggie will teach us how a basic understanding of our personal chart can help us to make more enriching and rewarding choices on a day to day basis and how it can help us align more fully with our karmic purpose. She will provide attendees with the basic details of their Lagna ( ascendant) and how it connects with their Atmakaraka (indicator of soul's journey) which we will use during the retreat. Maggie will also be available before or after the retreat for optional personal consultations.
There will be plenty of free time to walk beside the sea or to explore the stunning scenery of the Seven Sisters Country Park. The path from the house leads straight onto the cliff path and offers fantastic views of the Cuckmere estuary and beyond. Closer to home, the grounds of the house are beautiful and you can while away your time in the walled garden, the nature garden or yurt.
There will also be two therapists on hand offering optional treatments such as Japanese face massage, reflexology, aromatherapy,holistic massage and no hands massage.
The retreat starts at 4pm on Friday the 19th June and finishes at 3pm on Monday 22nd June.
Florence House offers delicious vegetarian food and can cater for special dietary needs. Accommodation is very comfortable in shared twin, triple or double rooms and a limited number of singles can also be accommodated.
There is a £75 non returnable deposit to reserve your place and the balance must be paid by 8 May. Payment can be by paypal, cheque or Bacs transfer. Please contact me for single room availability.
Any questions please contact Patricia@theyogaroot.com or 07860 581108 / 01784 479974
Book Now
| When | Description | Room Type | Cost |
| --- | --- | --- | --- |
| 19 to 22 June 2015 | Summer Solstice Yoga Retreat | Non-Returnable Retreat Deposit | £75 |
| 19 to 22 June 2015 | Summer Solstice Yoga Retreat | sharing a twin, triple or double room | £395 |
| 19 to 22 June 2015 | Summer Solstice Yoga Retreat | single occupancy | £465 |