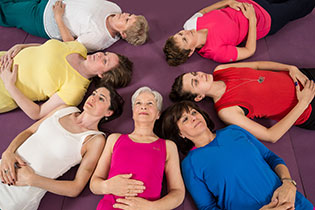 The Yogaroot Community
For yogis who would like to meet like minded people outside of formal classes and so that those of us who know and love yoga can share ideas and inspiration, and where anyone new to yoga can find out more. We regularly meet for tea and yoga chat and to enjoy talks, and creative sessions where we can get to know one another better and indulge our passion for mind body spirit activities.
All events are free but please let me know you are coming as numbers may be limited for some events.
Next dates:
When
Time
Event Details
Book a space
Saturday 19th October 2019
3.00 – 4.45

Finding Your Life's Purpose

(Swadharma)

We often start out our lives with plans and dreams, but then life takes us in a different direction. So if that happens, how do we find our own "dharma" and get back on track ?

This will be a mix of discussion, meditation and  envisioning along with tea and chat. Everyone is welcome

Upstairs at Bar 163 Egham High Street

email 
To find out more please contact me at:
patricia@theyogaroot.com or 07860 581108.