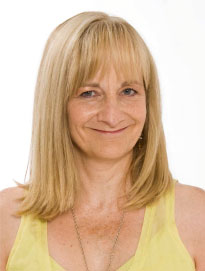 About
Patricia Cronin has been practising yoga and meditation for 45 years and it is her own experience of the transformative power of regular practice that inspired her to leave a successful career in change management to become a full time yoga therapist.
Patricia has trained with yoga teachers from many traditions both in the UK and abroad, including Satyananda, Sivananda, Iyengar, Ashtanga and Vinyasa Flow and aims to bring the best of each to her teaching.
She has been teaching full time since 2009 and qualified as a Yoga Therapist in 2012 and since then has built a thriving practice working in NHS hospitals, private clinics, schools, for specialist need groups and one to one.
Yoga as a therapy is Patricia's passion and she is an active member of the International Association of Yoga Therapists and the British Council for Yoga Therapy which keeps her up to date with the latest scientific research into the healing benefits of yoga. She has a particular interest in yoga for stress and mental health.
She is a registered with the Complimentary and Natural Health Care Council and sits as an elected member on their yoga therapy board. She has taught on retreats in France and Italy and runs her own retreats in the UK. She has  presented at the Yoga Show Olympia. She is currently training yoga teachers to become yoga therapists for 'Real Yoga'.
Qualifications
International Yoga Teaching Diploma – Friends of Yoga Society International
Yoga Therapy Diploma – Real Yoga
Yoga for Eating Disorders – Minded Institute
Yoga Therapy Certificate from Yoga Campus with Doug Keller
Registered Yoga Therapist CNHC
Meditation Teachers Certificate – British Yoga Teachers Association
Award in Education and Teaching – University of Westminster
Registered Exercise Professional – Level 3
Post Graduate Certificate Teaching People with ME and Chronic Fatigue with Fiona Agombar
BSc (Hons) Earth and Environmental Sciences
Most recent CPD training
Yoga for end of life – Real Yoga, Yoga for female pelvic health and post pregnancy FRYOG