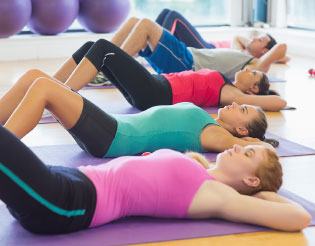 Yoga for Healthy Backs Three Week Course
According to the NHS back pain affects at least a third of adults in the UK every year with a significant cost to the economy both in treatment costs and sick absence. More important is the toll on our sense of wellbeing, because long-term back pain can be extremely debilitating both physically and emotionally.
Yoga therapy offers a simple practical approach to improving flexibility, postural alignment and core strength. Once learned you can safely continue on your own at home, reaping long term benefits.
Unlike other exercise based regimes yoga therapy also teaches you how to relax and to use your breath to release tension which is very helpful during episodes of pain or discomfort and leads to a better overall sense of wellbeing.
The course is suitable for beginners and experienced yogis alike. Groups will be small (six people maximum) to allow for plenty of individual attention. One to one classes are also available.
For more information or to book please contact:
Patricia@theyogaroot.com or 07860 581108 / 01784 479974
Next dates:
When
Time
Where
Cost
Summer 2017
date to be confirmed email to be added to the waiting list
10 a.m – 11.15 am
Runnymede Osteopaths, Still House, 5a, 80 High Street, Egham TW20 9HE View Map
£50 for the course of 3 classes