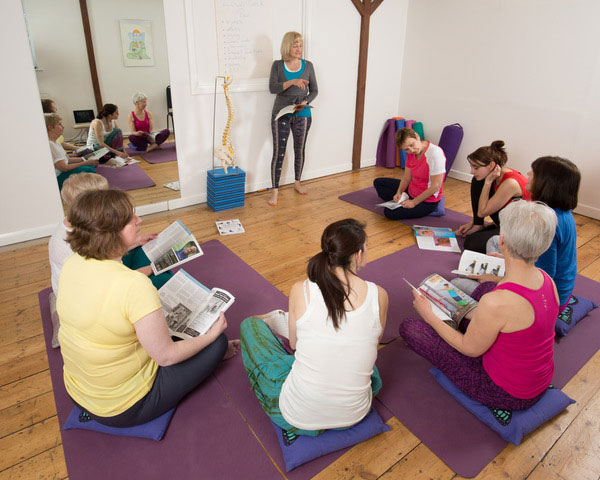 "Thank you for another amazing weekend. I am absolutely loving this course, it has transformed the way I teach and the way I feel, it is a remarkable journey. I am very much enjoying the case studies too, it is all so interesting and I feel that things are really coming together. Love it love it love it!"
Irene
"It's a brilliant course: the teaching is great and supportive. The content and learning have brought a richness to my yoga teaching and opened my eyes to how yoga can help people individually with their health issues."
Sarah
"In depth and life transforming for me. Absolutely essential if you want to further your yoga teachings and practice."
Aidilla
Real Yoga Post Graduate Course in Yoga Therapy
Starts in Egham April 2019
Yoga Therapy is one of the fastest growing fields of complementary healthcare. Our graduates find therapeutic work privately, in the NHS, in private medical centres, or working with special interest groups. Some choose simply to integrate their therapy knowledge into their own lives and their regular yoga classes taking them to another level.
At Real Yoga, student development is our priority and is at the heart of everything we do. Training groups are small and you will have a personal tutor who will teach each weekend, with specialist expertise being provided by e.g. physiotherapists, Ayurveda specialists. This will ensure that you receive support and attention appropriate to your individual needs.
On the course, you will:
Learn key yoga therapy skills and holistic principles
Learn communication skills for one to one work and how to develop the therapeutic relationship
Study subtle energy systems in relation to health problems and yoga practices
Study applied anatomy and physiology relevant to common illnesses
Learn the yoga understanding of disease
Learn how to run a professional yoga therapy practice
Full Syllabus
You can download a copy of the syllabus with further information and training dates and Real Yoga Syllabus and learning OutcomesReal Yoga Syllabus and Learning Outcomes 2.0PDF
Course Information
The course is accredited with The British Council for Yoga Therapy and students will be able to register with the Complementary and Natural Healthcare Council.
There are 12 training weekends which are held at two monthly intervals over 24 months. A further 6 months is needed to complete case studies with supervision. (More time is given if needed)
Dates will be:
2019  April 6 /7, June 1/2 , July 20/21 , Sept 21/22,  Nov 9/10
2020 Feb 1/ 2, April 4/5, June 6/ 7, July 18 /19, Sept 26 /27, Nov 14 /15 2021 January 16/17
Applicants must have the following qualifications and experience:
Have a yoga teaching qualification from training of a minimum of 200 hours and 180 contact hours; yoga training which spanned 2 years is preferred and highly recommended.
Have been teaching as a yoga teacher for a minimum of 120 hours over 2 years
Completed continuous professional development, once qualified as a yoga teacher, of at least 15 hours per year
Have been committed to their own regular personal yoga practice for a minimum of 3 years
Costs
Tuition fees are £3,500 which can be paid monthly and assessment fees are £200, payable to the assessor at the date of assessment. A non-refundable deposit of £350 is required to secure a place.
Extras
Real yoga has its own reduced price group insurance via Balens which students can take advantage of. And we have an ongoing supervision and support scheme, and regular CPD opportunities for our graduates.
To Apply
The application form can be found here PGYT Application Form 2019. Or if you would like some more information about the course, please contact me at Patricia@theyogaroot.com or on 07860 581108